The Arc Project: AI & Screenwriting
In 2022 BoostHBG supported local filmmaker Hussain Currimbhoy to explore how a screenwriter might use artificial intelligence (AI) as a tool in their creative process. He explored this both by doing his own experiments together with other regional screenwriters as well as conducting research and interviews with people active within the developing field of creative AI.
The main takeaway from BoostHBG's perspective is the importance of curiosity for filmmakers when faced with new technological developments. Hussain took the time to explore both the possibilities and the limitations of AI from his perspective as a writer in the hope that others would also benefit from that knowledge.
This page contains the research updates along the way as well as the final report summarizing his learnings.
ABOUT THE PROJECT
Can Artificial Intelligence (AI) make me a better screenwriter? That is the question that started this project. The possibilities of how filmmakers can engage with AI are boundless. But what this project looks specifically at is how AI is being used in screenwriting. After consulting with friends and fellow writers it seems this is an area of interest both to the scientific and the creative communities. AI is currently used in screenwriting as essentially a pattern-recognizing mirror of genre films. But can we design an AI machine learning algorithm that is truly a tool for writers? Can we design and deploy AI that is more humanist, more useful to the writer in a way that demonstrates true collaboration between human and machine? These are some of the questions we wanted to answer in The Arc Project.
The project worked both with hands on experimentation with using AI in the writing process as well as by conducting interviews both with other screenwriters and AI experts. Through this the goal was to inspire broader and more practical conversations about AI within the industry as well as demystifying it as a potential tool for writers. This project ran throughout 2022.
ABOUT HUSSAIN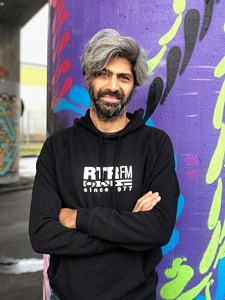 Hussain Currimbhoy is a writer/director/ producer based in Helsingborg. He moved to Sweden in 2020 after spending 15 years in the film festival and interactive media space and now runs his own company, Master Mechanic Films. Hussain also runs a blog about astronomy, and is producing several feature documentaries related to science. You do not want to sit next to him at a dinner party unless you are really into gravitational waves.
Email: hi@hussain.studio
WHY BOOSTHBG IS CURIOUS
Our interest was sparked because of the way that this project explores AI from the point of view of a creative rather than from a tech insider. We see the potential of the findings from this research being of use to our regional creators both by informing about these trends and providing a case study for how this new tool might be used. The question of how AI might impact the creative processes within the screen industries is one that inevitably will have an impact in the years to come. Through Hussain's research we hope to gain an understanding for where this technology stands today, where it might go in the future and how that might impact the individual writer.
We believe that it is important for all creatives to be aware of and knowledgeable in the technological developments and how they might impact their field. That is the only way to impact the direction those developments might take and ensure you stay relevant.